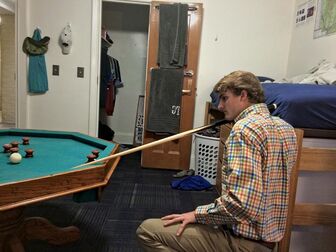 Nickname:
The Drop-Out
Born: November 8, 1994
Died: TBD
Background: Born and raised just outside the beautiful #1 city in the world Charleston, SC, Henry has been a competitor for much of his pubescent and post-pubescent life, dabbling in basketball, lacrosse, surfing, wrestling his little brother, and climbing before stumbling into the bumper pool world at the ripe age of 19. Henry picked up the sport fast, dominating all the other noobs and reaching the world #3 spot by the time of his 20th birthday. After contending with Jorge and Kaustav for the #3 spot through the month of November, Henry suffered an ELO-deflating first-round bout with competitor Bryce Wolery at the Bumper Pool Worlds, going down in a 3-4 series in what is accepted as the Most Suspenseful Series of the Bumper Pool Worlds. After his defeat, Henry took a leave of absence from Le Bump, recording less than 10 (maybe less than 5? Idk. It was a dark time) games between his departure and mid-February. Thankfully, if you listen closely, you can hear Henry's bumping again, the sound growing louder and louder with each day. He's been welcomed back to the Bumpesliga with enthusiastic support, and his fans eagerly await Bump Madness with hope for a true return to glory for Ole Hank.
Henry is most well-known for the integration of the bump shot into pre-Bump For Glory play, the invention of one-handed bumping, and the coining of the term "Bumpesliga."
Strengths: The bump shot, sinking those clutch outsiders, bump smarts, potting you in the center
Weaknesses: The opening shot (honestly so bad compared to the rest of his play), sinking his balls in his own hole, getting an absurdly large amount of unlucky blunders
Slogan: **blows his finger like you'd blow the smoking barrel of a pistol after sinking that clutch outsider**
Face or Heel: A definite face