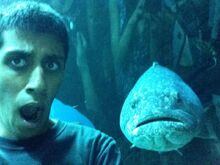 Nickname: The Ultimate Heel or Kingslayer
Born- March 25, 1995
Died-
Background- Born and raised in Syracuse, Amin quickly emerged as the best bumper pool player New York has ever seen. Gentle, kind, and shy, Amin was the ultimate people's player and was a total face until Will Victor savagely proclaimed him "The Ultimate Heel" in a power-driven move. Inspired, Shaunak quickly rose through the ranks and became the number 3 player in the world. "They hate him because they ain't him"- Confucius referring to Shaunak Amin, after his exceptional showing at the inaugural Pizza Bump Rodeo. All records of Shaunak's games post-PBR have been lost through the tests of time (edit: Shaunak currently remains #7 in the Elo Rankings Shaunak is not in the top 10 in the bumper pool rankings [yeah that's right #7 beotch]). Shaunak also has the greatest 3-day stretch known to man, occurring as Tyler Glass completed his march to his 1,000th win. Shaunak and Katsis have embraced their roles as top-dog heels.
Strengths- Original perfectionist of the Bump for Glory (since, possibly surpassed by Will Victor); Power plays; A mild level of intoxication
Weaknesses- The "Shoke"; Painfully good looks; Kaighn; Power plays; Sobriety or full blown inebriation; The "Walk-Away," most likely the origin of strict heel status.
Slogan- "Damn the KKK"- referring to the Axis of Evil (Kaighn, Kaustav, and Katsis)
Face or Heel: The backside of the foot was invented to put him in his place. He is the Ultimate Heel.